On April 1, 1975, Ernst Hartig founded VIDEOR. 1975 to 2021 - that's over 45 years in the middle of the professional distribution market. Take a look back with us at important milestones.
2020
On February 1, Dominik Mizdrak starts his work as Managing Director at VIDEOR. Co-Managing Director Michael Haas is pleased: "Dominik Mizdrak knows very well how family businesses tick. Based on his experience, his professional profile and his overall personality, I am convinced, together with the shareholder family, that he is the right man to expand and consolidate VIDEOR's position as a leading distribution partner for security technology in the DACH region by consistently developing our range of services and solutions." A supervisory board, consisting of members of the shareholder family and independent consultants, complements the newly formed company management.
2020 will go down in history as the "Corona year". The pandemic is also causing changes in the work culture at VIDEOR. The abrupt shift of the workplace to home or mobile office is seen as an opportunity and gives additional impetus to the digitalization of the company. Once again, the employees show great cohesion and a high degree of responsibility, so that VIDEOR comes through the crisis in good health and economically.
2020 is also the year in which VIDEOR's own brand eneo celebrates its 20th birthday. Today, as on the first day, eneo stands for a comprehensive portfolio, outstanding price-performance and installer-friendly products.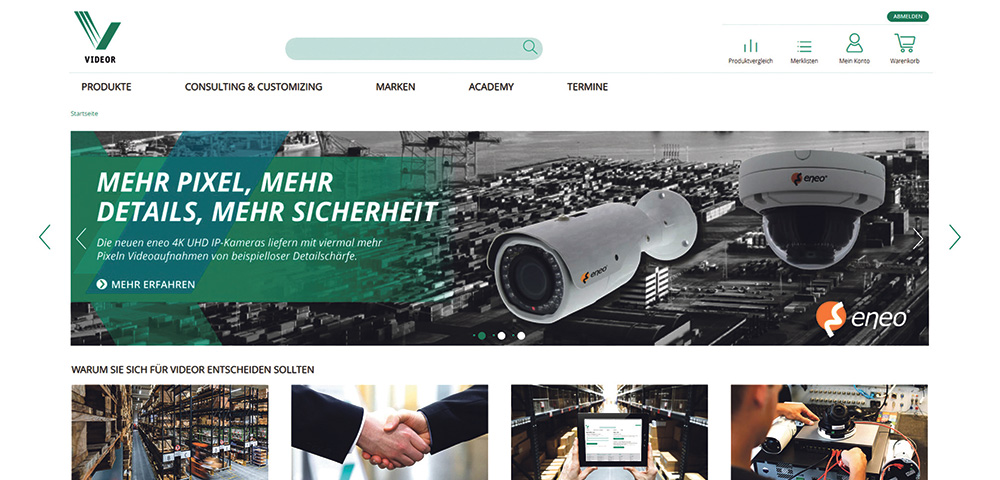 2019
Informing and buying on videor.com has never been faster, more comprehensive and more informative! In addition to advances in technology, look and user interface, the relaunch also brings a completely new feature: digital project processing. Now users can request and accept quotes completely digitally, as well as manage extensive projects. All this from their customer account on videor.com, independent of location and time.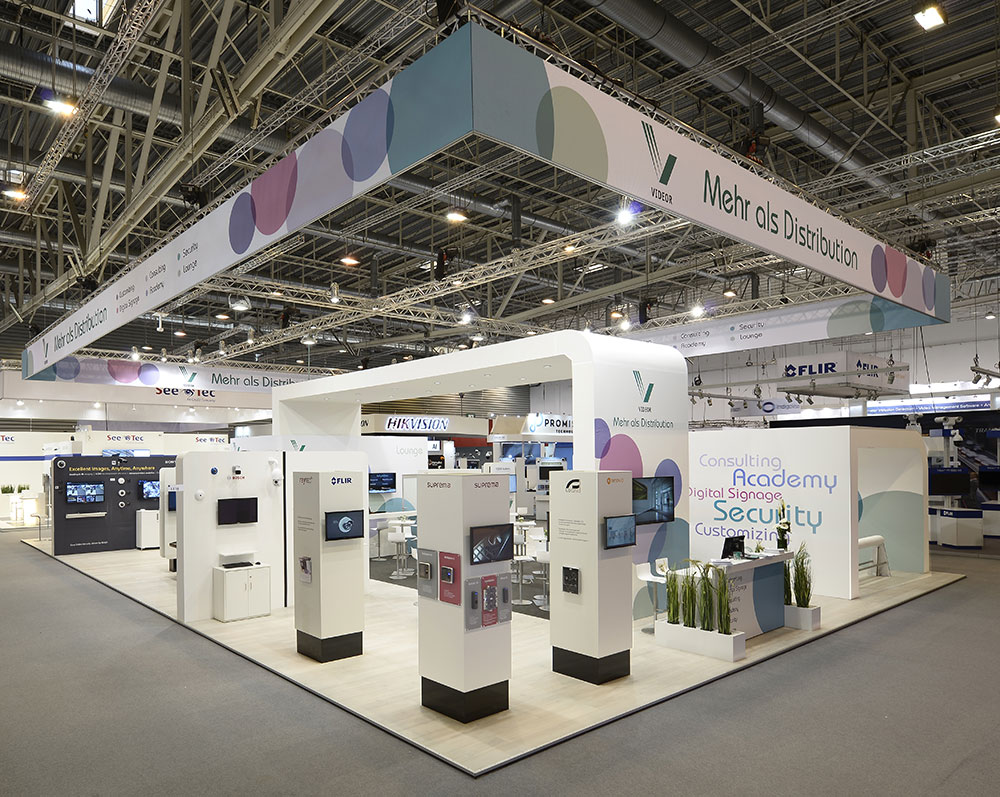 2018
From September 25 to 28, "security essen", the world's leading trade fair for security, takes place at the rebuilt and renewed exhibition center in Essen. Under the motto "More than Distribution", VIDEOR presents itself with a fresh, bright and clearly arranged stand in trendy colors. A very spacious meeting lounge, innovative products and solutions, a continuous lecture program and multimedia presentations contribute to VIDEOR's ability to successfully communicate its two trade fair focus topics - its own solution competence and added value for customers and partners - to its stand visitors.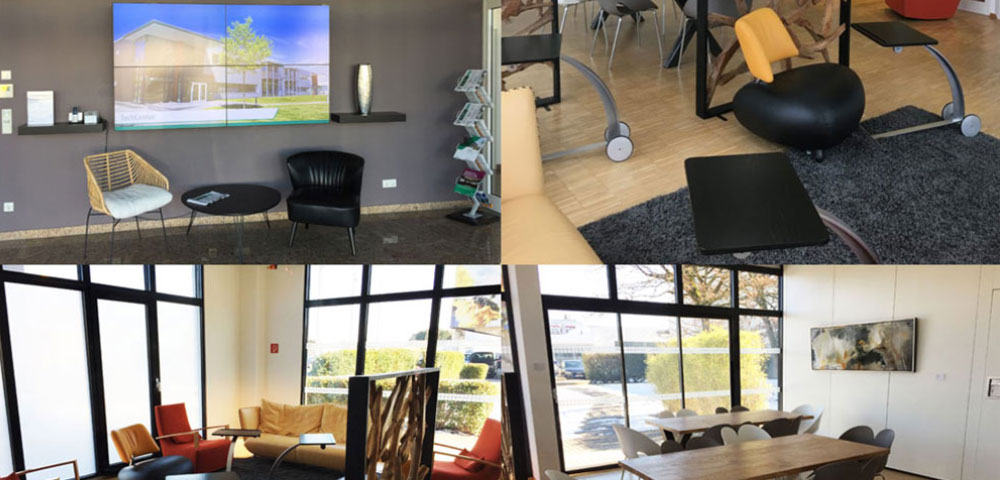 2017
In the second half of the year, a conference and training center is created at VIDEOR. For this purpose, the foyer and VIDEOR Treff in the VisitorCenter are completely redesigned and equipped. The foyer now adorns a 4K video wall which welcomes the visitor and entertains with further digital signage content. In the adjoining VIDEOR Treff you can comfortably meet, either on armchairs and sofa or on chairs at wooden tables. Whether workshop, conference or business meeting, the new flexible rooms can accommodate up to 100 visitors/participants.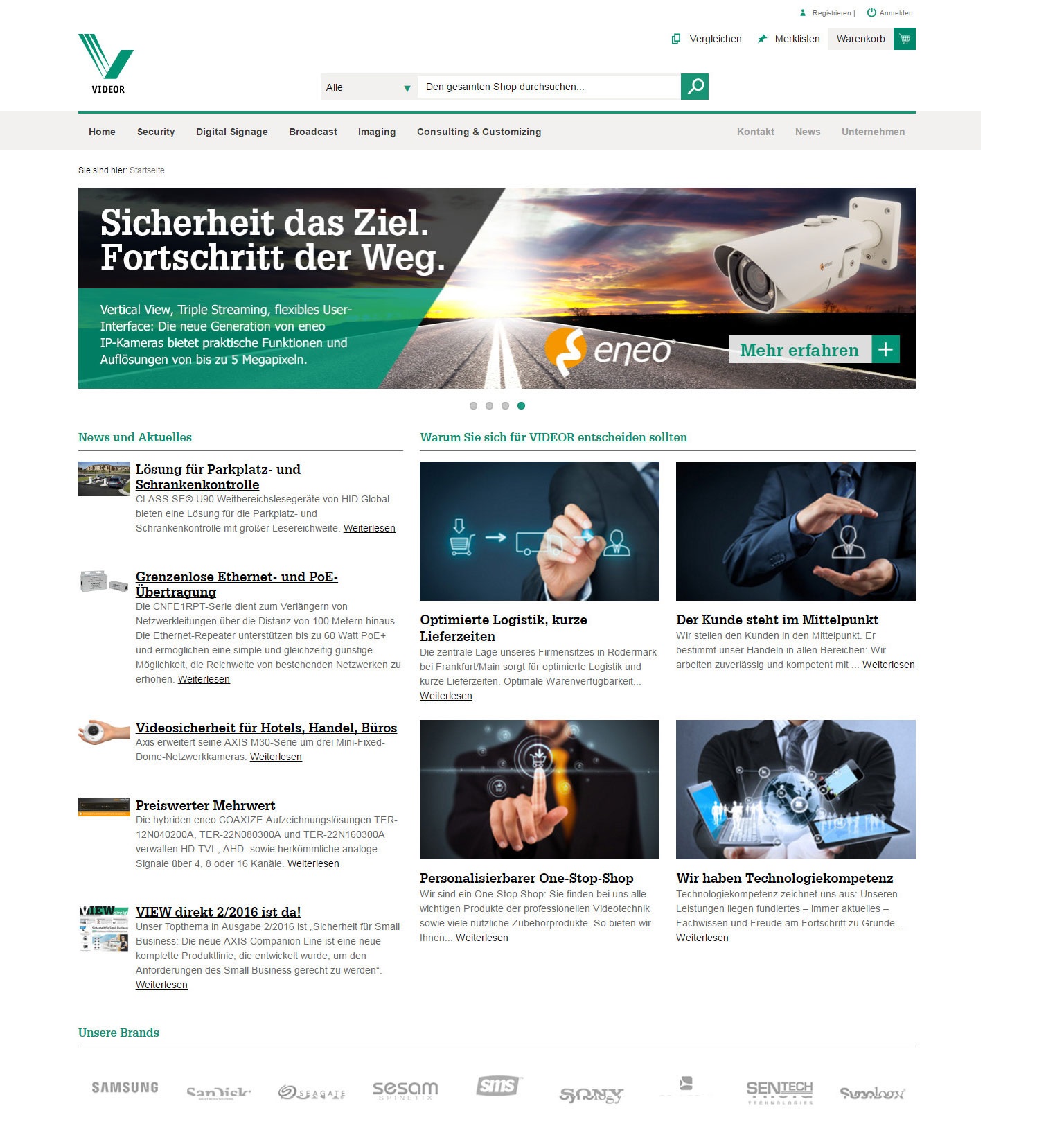 2016
On 5 June 2016, the update of our website www.videor.com goes live. The biggest structural-functional change is the consolidation and representation of all subsites on a single website. Now all products, solutions, and services from VIDEOR can be found on a single website. Further improvements regard the search functionality, the quotation, and the product recommendations.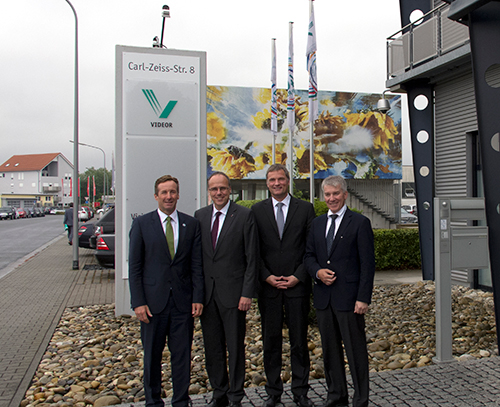 2015
In its anniversary year - 2015 VIDEOR is 40 years old - the company is honoured by the attention from politics and business. At an event ot the Wirtschaftsrat on 18 June 2015, Peter Beuth, the Hessian Secretary of the Interior, speaks about the results and plans of the state government in the field of internal security. In front of more than 40 entrepreneurs of the region, IHK (Chamber of Commerce) President Alfred Clouth recapitulates VIDEOR's successful company history and thanks VIDEOR and its management for their commitment in initial and continuous education and in the IHK. Among the guests are District Adminsitrator Oliver Quilling and Rödermark's Mayor Roland Kern, rejoice the fact that there is such an agile company and its dedicated employees in the county and city. Alexander Wilhelm, spokesman for the Economic Council of the Section Offenbach / Dieburg, states: "Here is a hidden champion at home".
2013
In the middle of the year, the partners transferred the involvement of the Videor Art Foundation in existence since 1996 into a non-profit limited liability company under German law (GmbH). At the same time, VIDEOR responded to the requirements in its sales markets and developed four focused business segments. You can find further information on www.videor.com/security, www.videor.com/broadcast, www.videor.com/imaging, and www.eneo-security.com.
2011
In addition to the expansion of the IP/IT-based share of our product portfolio, VIDEOR improved its capabilities in the interaction between supplier and customer by employing a new ERP system.
2009
VIDEOR generated annual sales of 63 million euros in the business year and underscored its strong market position. VIDEOR has positioned itself for the future with qualified and motivated employees, a newly designed website and a fresh corporate design.
2008
Inauguration of the TechCenter – Managing Director Jürgen Hagenlocher: "The workstations with modern equipment combined with the flexible usability of the building are an important signal for relationships between customers and suppliers."
Additionally, inauguration of the ArtCenter, an architecturally unique building that is also an expression of the VIDEOR strength of innovation.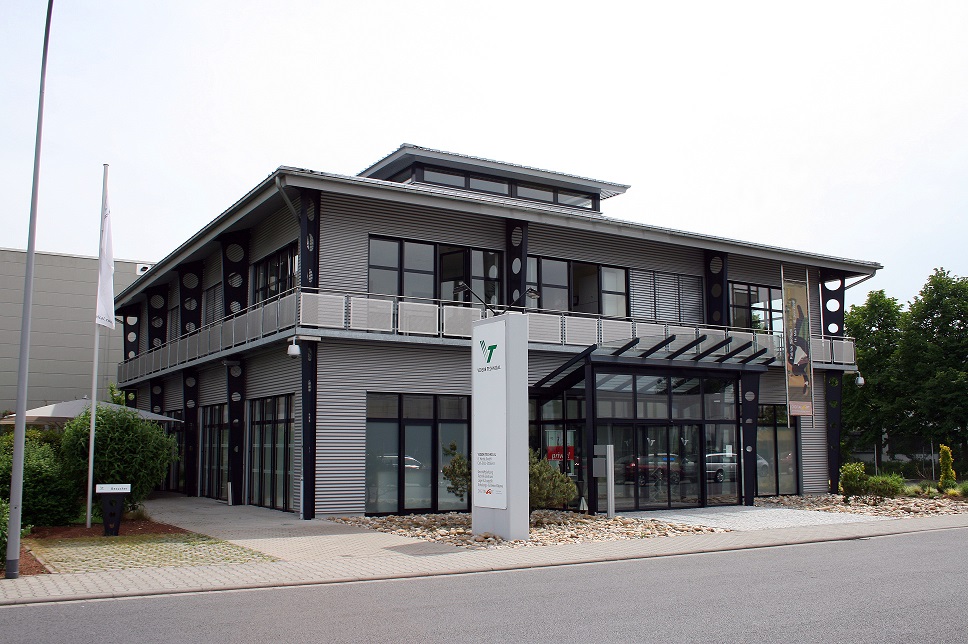 2003
The newly constructed ComCenter stands for expansion of the added value distributor through modern products, training courses and services: Competent instructors regularly introduce the latest developments in camera technology and the digital recording and transmission technologies. In certification courses, customers are additionally supplied with information on operation of networks and various possible applications. Further growth is promised by the newly established imaging business segment with products for industrial image processing.
2000
Market leadership through service and innovation – these mottos were the key to success: in its anniversary year VIDEOR is among the major providers in Europe and crosses the 100 million DM sales threshold with its 134 employees. "Our potential for innovation lies in our close partnership with key suppliers, and also in our team of employees that integrates market needs into customised solutions", explains Managing Director Michael Haas the high status of the company in B2B distribution. Two years later VIDEOR obtains EN ISO 9001:2000 certification and secures growing market shares particularly in the Security business sector.

1996
The birth of the commitment to culture with the "DigitalART" culture initiative, later renamed to the "VIDEOR Art Foundation". From the very beginning, the art patronage Logo Digital Art Foundationpresented only works of art created directly on a computer or through a technique that
combined traditional methods (e.g. conventional or digital photography) with a computer application. "An absolute first", as this artistic movement was still in its infancy at this time. Mostly artists who were still unknown as well as the upcoming artist generation were supported with three or four exhibitions per year. The art patronage became a living part of the corporate culture/philosophy in subsequent years.
1994
The company is certified in accordance
with ISO 9002 and in the security business segment it offers everything that secures banks, industrial plants and retail chains against unwelcome guests: cameras, monitors, recorders, lenses and control units are just a selection from the CCTV portfolio (CCTV: Closed Circuit Television). In the broadcast business segment, VIDEOR orients itself on private and public television broadcasters, production companies, dealers and system houses. The product range covers studio monitors and signal processing products as well as being the sole German agent for Fujinon lenses and professional video tape from Fujifilm.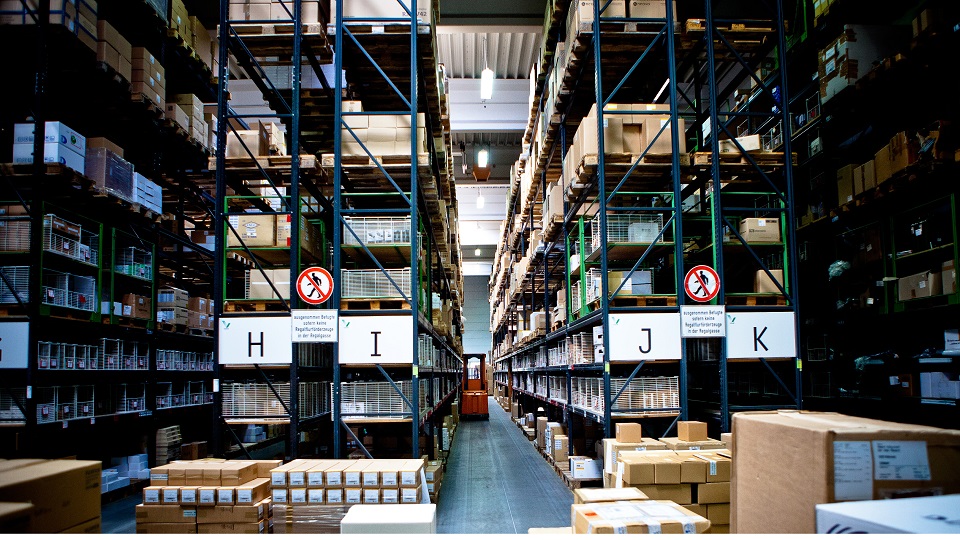 1988
Opening of the English subsidiary and inauguration of the new central distribution centre. A sophisticated storage system and 24-hour service ensure reliable deliveries. With 47 employees, VIDEOR has now established itself as the specialist for video technology in the broadcast and security sectors. In addition to providing support in project planning, customer service is also becoming increasingly important. "Our employees are our most important capital, and they consistently give their full attention to our customers", reinforces Managing Director Rainer Bernhardt.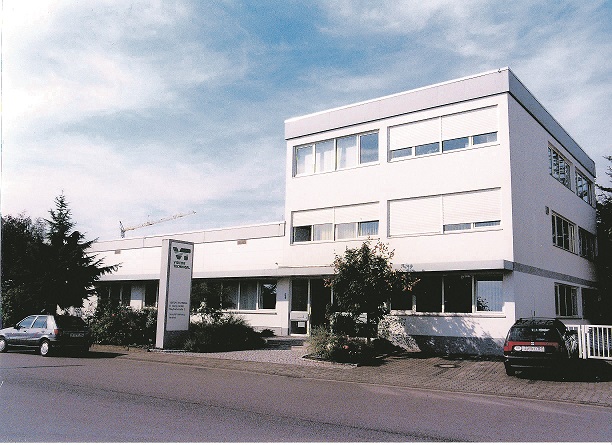 1978
Relocation to the new company building in Rödermark. Among experts, VIDEOR has now achieved a considerable level of recognition and stands for high-quality video technology. The market booms and this is shown in annual sales: in the 1982 business year, the 20 employees achieved sales of 19.1 million DM.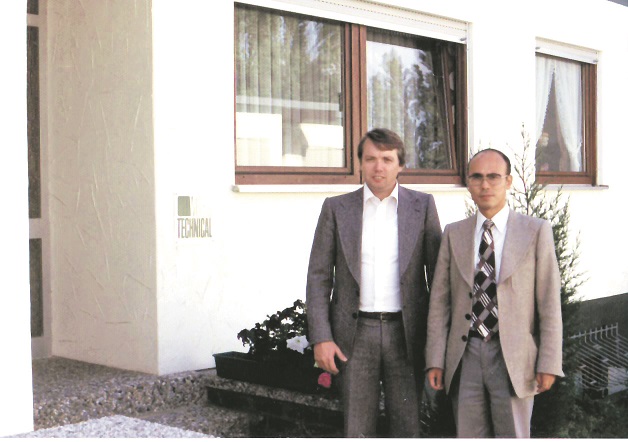 1975
On 1st April, VIDEOR E. Hartig GmbH is founded by Ernst Hartig as Videor Technical E. Hartig KG, one year later he receives support from Hans Peter Jamin. Over the years, the management duo gives the crucial impulse for the company's dynamic expansion. Consequently, VIDEOR soon makes a name for itself as the exclusive agent for leading Japanese manufacturers (Fujifilm, Fujinon) and, in the following period, both of these main pillars go from strength to strength and the product range is further expanded.