Logistics solutions by VIDEOR: Optimised logistics, short delivery times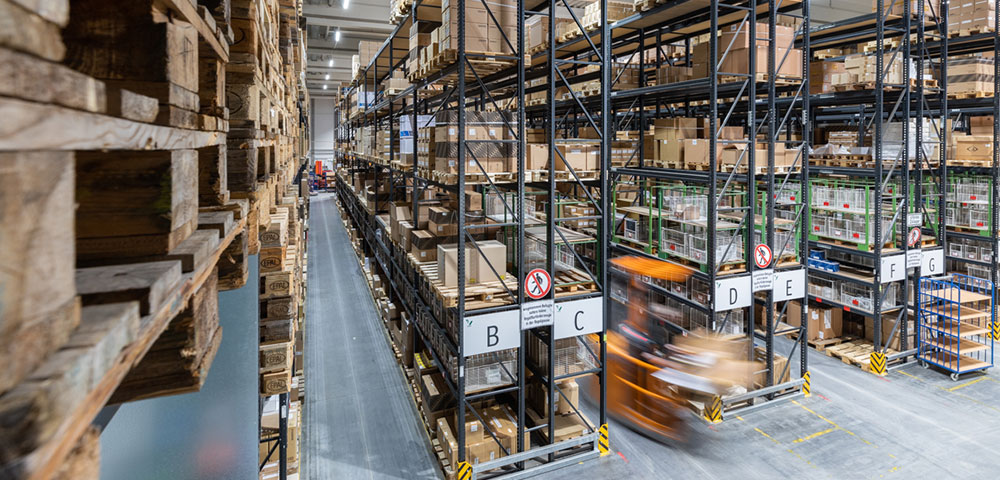 Whether clients need tracking information, courier trips, custom packaging or advising for export transactions, VIDEOR logistics is not only fast and efficient, it also explicitly addresses customer needs.
Delivery slips sent via e-mail including tracking information
Would you like to track the delivery status of your orders? You can do so easily with our "delivery sip copy via e-mail" service: Directly after your goods are shipped, you will receive an e-mail with a copy of your delivery slip and tracking information for packages sent by GLS and UPS, as well as freight shipments with Dachser. The tracking information provided in the e-mail allows you to track the delivery status of your shipment.
Courier and special trips
If you need especially fast delivery within a set time frame, or if you need delivery to a construction site that doesn't have an address yet – it's no problem, just call us and we will find a solution. For example via courier and special trips. Please note that such special services should typically be agreed at least two business days before the desired delivery deadline, and will typically result in additional costs.

Shipment packaging according to customer specifications
Upon request, we can prepare an offer for you to package and label goods you order according to your specifications. This allows you, for instance, to assemble packaging sets adapted to the work steps required for assembly, or select packaging that fulfils specific transportation requirements.
Including customer goods for shipment by VIDEOR
We can include your goods with products ordered from us upon request. We are happy to inform you of the associated costs upon request.
Shipment in the name of a third party with or without customer-specific delivery documents
Would you like to have your goods ordered from us delivered directly to your customers? No problem, we can handle this service upon request – if standard VIDEOR shipment documents can be sent and the shipment is a standard delivery, then this will incur no additional costs. Of course, we can also ship goods with delivery documents including your address, company logo, etc., however we do charge a one-time fee to set up this service. This does not apply to export shipments.
Advising on shipping and processing exports
Our colleagues in the Logistics department will be happy to provide legally-binding advising on topics like shipment, export processing, export restrictions, etc. Depending on the scope of advising required, this service may be free or may incur a charge. We would be happy to clarify details during a personal discussion with you.
Logistics at VIDEOR at a glance

- Optimised logistics and short delivery times thanks to a central location
- Free delivery for web shop orders above 1,000 EUR net value
- Immediate delivery rate: >70 %
- Advising on shipment and customs questions

If you have questions about the above services or would like to request an offer, please contact our Logistics department directly.
E-Mail: supplychain@videor.de
Phone: +49 6074 888-219